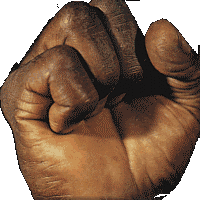 The Tap That Never Was
The Seeds of Rebellion?
Despite emails from high ranking FBK members that suggest Green was blocked due to fears he would throw his name into the SBP pool for the coming Spring 2007 race, one still has to wonder...what was FBK's leadership thinking? Jamal was cheated of FBK & Ignite's support, but Jamal also held the #2 position of SG-Exec as well as (already) being a member of the leadership honorary. The idea that a sitting Senate President Pro Tempore would be rejected for a tap is unfathomable, it is not only an offense to Green, but to the Student Senate, the Legislative arm of Student Government. FBK should have tapped Green ,if anything, out of respect for his high office and his work as a leader of the Student Senate. How dare a
leadership honorary
reject the second-in-command of Student Senate? I am surprised at Senators (from both parties) not being OUTRAGED at the honorary for this boldly egregious act against it's second-in-command REGARDLESS if they think he can win this office or that office, he is currently your elected #2 and is deserving of more respect than what FBK showed him, showed you.
Let's get one thing STRAIGHT. Maybe FBK puts more value on leaders outside senate than they should, the fact that senate is a minor and cabinet is a major is one indicator, but why? Screw the fact c.directors have a budget and/or personnel under them, the bottom line is that Senate signs off on filling Key's coffers with A&S Fee money, so why is Senate relegated to a minor? Senators could seize on FBK's insolence towards Green as a point from which to battle for more recognition of the Legislative Body in regards to recruitment. Perhsps next time Growl is up for funding, Senate should slap the honorary on the wrists and remind it who butters their bread.
---
I sent an email-request to Gator leader Sen. J. Clayton Brett in regards to his promised clarification email in regards to the failed Cingular Bill (Sen. Loh was cc'ed). There has been no response from Brett & the expected clarification email, it appears, will no longer be offered to
TR
.
---
I've contacted Sen. Pedro Morales with a topic I'd like for him to write a blurb on. It seems the GDI Hawk may in fact help us out, which would be sensational. The topic will be announced after Nov. 30.
---
The James Argento interview is still being worked on. Expect James' Q&A to be out the week of Dec. 1-5th.
---
I was honored to receive a letter from Student Senate President Pro Tempore in regards to my earlier post. I want to thank the Pro Tem for his kind words and for his remarks on my service in SG.
---
I have written a letter to the Editors of the Independent Florida Alligator to look into Pro Tem Green's case. I believe this story belongs on the pages of the student newspaper. Anyone else that believes this injustice should receive media coverage please email
Alligator Editor, Stephanie Garry
at once.
---
---